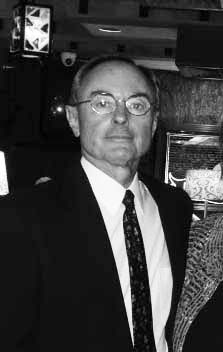 Biographical Sketch
email: rbstjohn@comcast.net
Ronald Bruce St John graduated from Knox College with a B.A. in political science and the Graduate School of International Studies, University of Denver, with an M.A. and Ph.D. in international relations. Following service in Vietnam as a Captain, Military Intelligence, he joined the marketing division of Caterpillar Inc., spending most of his 30-year career in Europe, Africa, the Middle East, and Asia. He retired at the end of 2001 after a decade as a Strategic Planning and Commercial Manager.
Dr. St John was an affiliate professor at the Institute of International Studies, Bradley University, in 1982-2006, lecturing and teaching a course on Middle East politics. He participated in 1999-2001 in the Proyecto Trinacional, a trilateral project (Bolivia, Chile & Peru) promoting economic development in the Atacama Desert. He was actively engaged in 2002 in the Palestinian Authority's Land Corridor Project, sponsored by The Adam Smith Institute in London. He delivered the 2003 Mary Newson Lecture on International Affairs at Eureka College and served as a moderator and discussant at the Columbia University conference on Libya in 2006. He has been a frequent guest lecturer at the Diplomatic Academy of Peru since 1999. He has served as a consultant for a variety of Fortune 500 companies, U.S. government agencies, National Geographic Magazine, World Book Encyclopedia, the Associated Press, Washington Post, and The New York Times. He also served on the International Advisory Board of the Journal of Libyan Studies and The Atlantic Council Working Group on Libya. He is currently an analyst for Foreign Policy in Focus (www.fpif.org) and Oxford Analytica (www.oxan.com).
Working as an independent scholar, Dr. St John has published 21 books and monographs and contributed to 22 others with a three-fold focus on Andean America, North Africa & the Middle East, and Southeast Asia. He has also authored more than 300 articles and reviews, including essays in Encyclopedia of the Modern Middle East and North Africa (2004), Africa Contemporary Record (2004 & 2005), Encyclopedia of Religious Practices (2005), Governments of the World (2005), Biographical Encyclopedia of the Middle East and North Africa (2007), Oxford Encyclopedia of the Modern World: 1750 to the Present (2008), Encyclopedia of Islamic Political Thought (2008), Princeton Encyclopedia of Islamic Political Thought (2012) and Oxford Encyclopedia of Islam and Politics (2014).